Seventy percent of companies say closing more deals is their top priority. And yet the percentage of salespeople making quota has dropped from 63 percent to 53 percent over a five-year period (CSO Insights).
One of the leading causes of this decrease in productivity is salespeople failing to use sales and marketing software that integrates with their customer relationship management (CRM) software. This is especially true in manufacturing, where the purchasing process has moved online.
Ninety-four percent of B2B buyers say they conduct some form of online research before buying a business product (Accenture). To boost productivity, sales teams at manufacturing firms must also move their sales process online—but in an integrated way.
Excel and other errors
If you want to trace your lost sales productivity to its source, look no further than manual tools and processes.
Disconnected analytics. Plenty of manufacturers are still using multiple tools to measure the effectiveness of their sales and marketing efforts. Website visits are found in Google Analytics. Prospecting data is housed in an Excel spreadsheet on a laptop somewhere. Email metrics are housed in the email marketing software. And sales figures are kept in yet another database, most likely a legacy ERP System.
The problem is that these disparate systems are not connected to each other. Data in one system is not as up to date as data in another system. Which means manufacturers lack a 360° view of their customers and their sales pipeline. They can rarely attribute a sale to the marketing channel or campaign that captured the lead.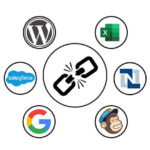 Sales and marketing misalignment. As you can imagine, when sales data and marketing data are not integrated and synchronized, the sales team and marketing team are rarely aligned. Marketing can't be confident that the leads they are passing onto sales are qualified and worth pursuing. And sales can never be sure that they know every touch point each lead has had with their organization. They don't automatically know, for example, when a lead visits the company website, views a product page or opens a marketing email.
The solution
If you want to boost the productivity of the salespeople at your manufacturing firm, start by deploying a CRM that features integrated sales and marketing tools. HubSpot, for example, features Sales Hub and Marketing Hub, two modules that integrate with the CRM to help manufacturers and other businesses acquire, engage, nurture and close leads—all within one platform.
There are multiple benefits to deploying a CRM like HubSpot that integrates with sales and marketing platforms.
Guaranteed follow-up. Around 40% of salespeople abandon a lead after just one follow-up call. But with a sales-enabled CRM, they can follow up with every lead automatically. Your salespeople, for example, get notified immediately when prospects take a noteworthy action, such as download a case study or visit your pricing page.
360° reporting. Comprehensive CRMs let you trace a lead from first contact to final contract. From one dashboard or reporting tool, you trace every contact a prospect has had with your organization, including web pages they have visited, links they have clicked, emails they have opened and sales conversations they have had.
Automated data entry. Another big advantage of integrated CRMs is that they eliminate manual data entry. Every lead's contact info, website and email activity gets logged automatically. These platforms automate time-consuming tasks like lead rotation, note creation and follow-up scheduling.
Productivity tracking. When you sync your sales and marketing software with your CRM, you can track your entire pipeline, including deals won, lost, proposals and more. And you can see which reps are your best performers (and why). All of these features help you uncover more leads, connect with more leads and close deals faster.
A case study
To appreciate the power of integrating your CRM with sales and marketing tools, consider the experience of a manufacturer of cable trays and wiring systems for buildings and data centers. This company, which has annual revenue of $10 million, discovered that its marketing was no longer working. Their outdated methods of trade pub advertising and trade show exhibiting were proving increasingly expensive. Demonstrating ROI from these tactics was impossible.
This manufacturer slowly transitioned from outbound to inbound marketing and deployed the HubSpot CRM along with HubSpot's Sales Hub and Marketing Hub.
These tools helped the manufacturer take strong follow up with leads, automate many of their tasks, nurture trade show leads automatically, and pass more qualified leads off to sales.
Instead of running full-page ads in trade publications as before, this manufacturer created a downloadable white paper and offered it on a dedicated landing page in exchange for a contact's information.
They then promoted the white paper through an industry email newsletter and drove traffic to the landing page.
The campaign generated 165 downloads in the first 30 days, generated over a dozen inquiries, and generated six requests for quotes.
The manufacturer enjoyed the added bonus of being able to track the ROI of the campaign right down to the penny. The integrated CRM, along with the marketing campaign, allowed the manufacturer to calculate cost per lead and cost per sale accurately, and prove that the switch to the integrated CRM was worth the investment.
Conclusion
The secret to success in boosting sales productivity at your manufacturing firm is likely an integrated CRM that aligns your sales and marketing teams and gives you a 360° view of your customers and your sale pipeline. Add a marketing methodology like inbound marketing that matches the way modern buyers buy and you are on your way to increasing the percentage of your salespeople who meet quota.
Next steps
Brainstorm Studio is a full-service digital marketing agency that helps B2B manufacturers who are in search of high growth and consistent return on investment. If you need help deploying an integrated CRM like HubSpot or implementing the power of inbound marketing, let's talk.