The Challenge
After their parent company Data Storage Corporation (DTST) went public on NASDAQ, CloudFirst needed to demonstrate significant growth by raising brand awareness and increasing revenue for their subscription-based cloud services to keep shareholders happy.
The problem was two-fold: First, not every company is ready to migrate IT services to the cloud; some decision-makers are reluctant due to data security and performance concerns, making every lead more valuable. Second, cloud services is a highly competitive market for with several big players such as Amazon and Google dominating the industry. But CloudFirst had a niche in the IBM Power Systems market that was the center of its go-to-market strategy, content, and website that was not being fully exploited.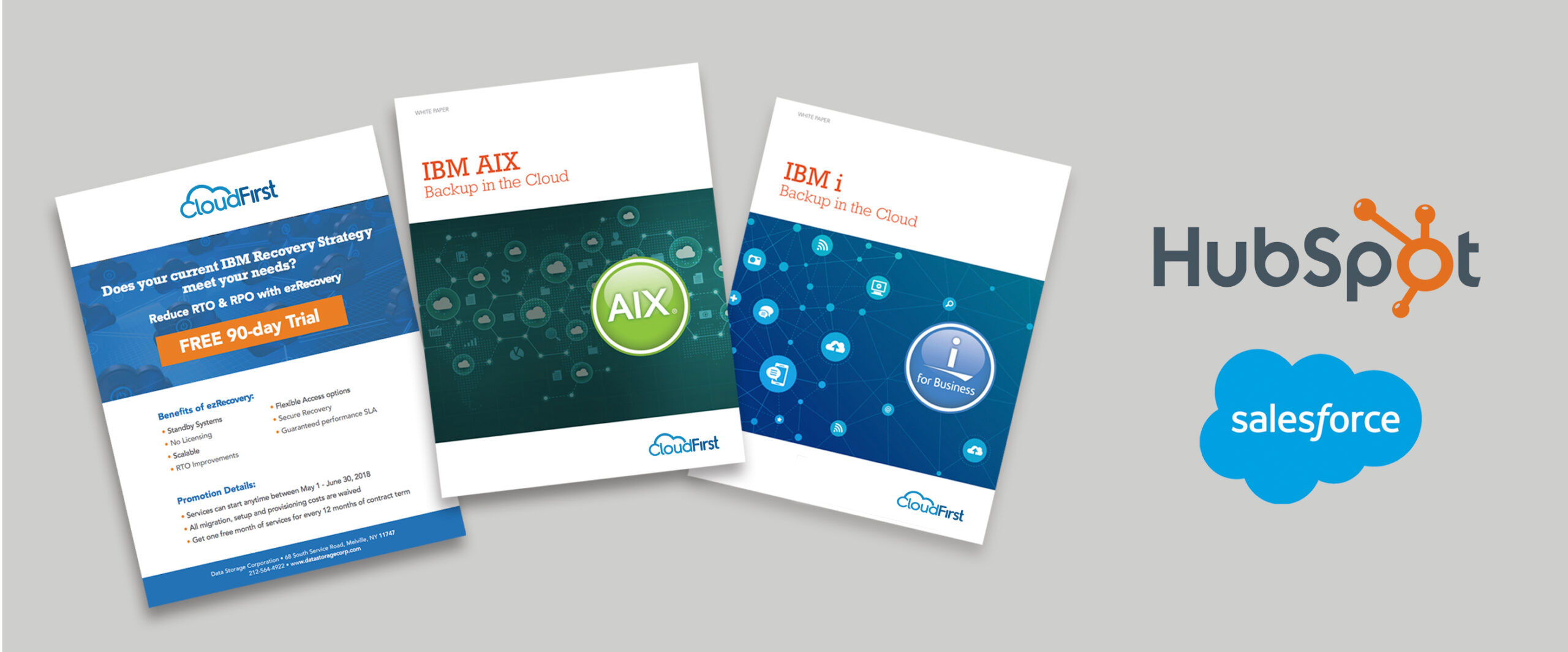 The Solution
Brainstorm planned and executed an inbound marketing program, supplemented by highly relevant content in the form of blogs, guides, white papers, videos, and webinars to drive qualified prospects to CloudFirst's website and help educate visitors on the unique benefits of its cloud-based solutions to resolve any hesitancy about safely migrating to the cloud
The content, developed by Brainstorm technical writers in partnership with CloudFirst subject matter experts, specifically addressed the pain points organizations often experienced with IT services and proven examples of how CloudFirst's solutions have helped others. The content was carefully coordinated with SEO keyword research to maximize organic search traffic, while also driving traffic with paid Google and LinkedIn ads.
Top-of-the-funnel content such as blogs were made available for immediate download on the website, while gated content offers (in-depth white papers, webinars, and guides) were used to capture contact information for qualified leads.
All contacts were stored in CloudFirst's HubSpot CRM and graded using a customized lead scoring system so they could be prioritized for appropriate follow-up by the CloudFirst team. Marketing qualified leads (MQLs) were nurtured with a series of emails to move prospects along, while Sales qualified leads (SQLs) were quickly elevated to the sales team to schedule meetings and provide quotes. All campaigns and activities were managed with HubSpot software and synced with the clients' Salesforce CRM.
Services Provided
Inbound Marketing
Content Creation
Marketing Automation
HubSpot to SalesForce Integration
Social Media
Paid Search
Website Development
The Results
The inbound marketing program has proven to be so successful in delivering highly qualified and cost-effective leads that CloudFirst has seen a 400% return on investment (ROI) for five straight years (2017 to 2022).
Today, the inbound marketing campaign and associated content continue to evolve to maintain relevancy in the face of the latest trends and threats to the IT community. In the first half of 2022, Leads continue to increase, up 21% compared to the prior year. The program continues to be a major part of CloudFirst's growth strategy going forward, along with an emphasis on recruiting channel partners and expanding their geographical footprint.


15%
Decrease in Lead Cost

400%
Return on Investment