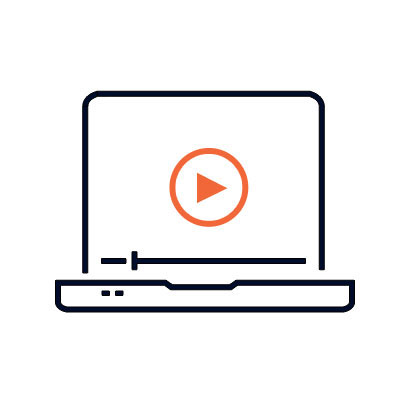 Video Production
Three-quarters of all web traffic is video and that percentage will only go up moving forward. Video is more engaging. It's easier to digest. And it's more memorable. As video content continues to take over the Internet, more and more companies are using it to explain their businesses, sell their goods, and engage their audiences on their website and their social media platforms.
Bring Your Brand to Life and Build Engagement

Be More Human
From case studies to testimonials to how-tos and blogs, video is the next best thing to being in-person when guiding a prospective client though the buyer's journey.

Increase Brand Awareness
With increased engagement, especially through social media, video helps spread your brand story and message organically to a wide and receptive audience.

Generate More Leads
Through gated content, links to landing pages and redirects to your other content, video marketing helps drive buyers to your site, earn their trust and build relationships.
Helping You Create Visually Compelling Content
At Brainstorm, we have the video production experience to tackle any project, whether you're looking to shoot a corporate video, whiteboard product explainer, or motion graphics for your products or services. With our professional production and animation capabilities, coupled with our strategic and storytelling skills, we will deliver a piece that is both visually dynamic and true to your brand.
Branding
Thought Leadership
Social Posts
Product Explainers
Deep-Dive Demos
Trade Show Messaging
Sales Enablement
Training & Education
Live Event Streaming
A Collaborative Process From Concept to Production
Your video can take many shapes and forms. Should it be live or animated? In-studio or on-location? Fifteen seconds or two minutes? At Brainstorm, we don't hit "record" until we've gone over everything with you: your goals, your message, your brand and your budget. We will work with you from start to finish to ensure we're creating a video the meets your objectives and exceeds your expectations.