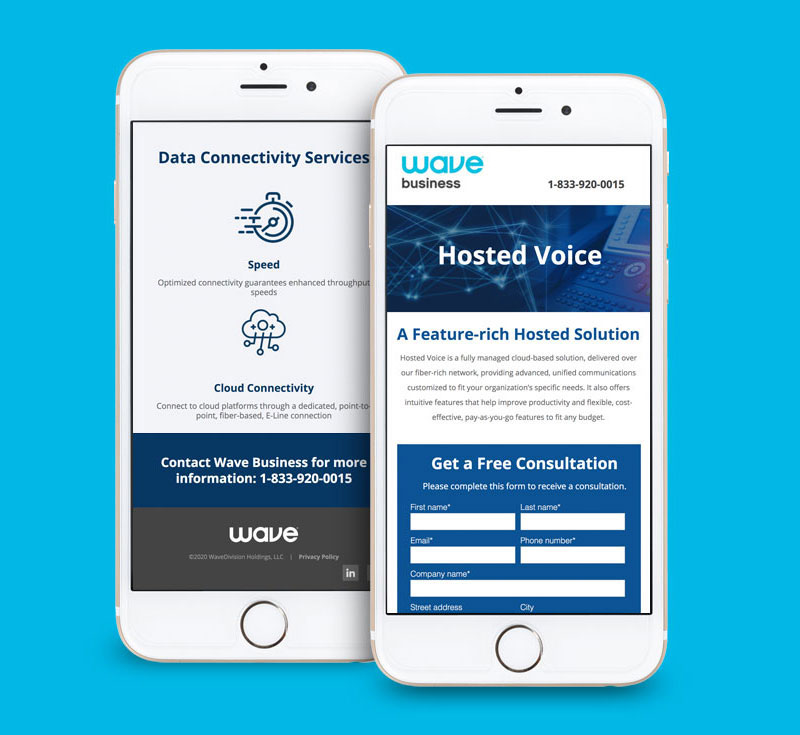 Overview
Wave Business is a leading provider of business-class broadband solutions, serving West Coast businesses of all sizes. Wave turned to Brainstorm for strategies to help build awareness of their internet and voice solutions, boost social media engagement, and increase business leads.
Services Provided:
Content Marketing
Email Campaigns
Social Media
Paid Search
Solution
We developed and implemented an aggressive multi-channel, digital lead generation program, consisting of email campaigns promoting new offers, plus programmatic display and paid search ads. We also created articles and white papers on high-interest industry topics and trends, which presented Wave as a thought leader in the communications services space. Through it all, we managed all social media posts and interactions to keep users informed and engaged. This digital program has helped Wave build its brand awareness, promote its key services, and increase new business leads.

Results
Our social media push resulted in a substantial growth in followers, engagement and post clicks. Net follower growth on Twitter rose 604% and on LinkedIn, it rose 258%. Paid search ad campaigns delivered a steady stream of leads per month, and our inbound marketing materials increased website traffic significantly, as well as the average time spent on the site.