The Company
Essentium is a manufacturer of innovative industrial-grade 3D printers and materials, serving a variety of government agencies and large organizations across the globe in aerospace, defense, biomedical, and electronic manufacturing applications, among others.
Essentium's version of 3D printing technology, called High Speed Extrusion, is bigger, better, faster, and more accurate than most competitive systems, delivering several performance advantages. Their website and marketing strategy, however, undersold the company.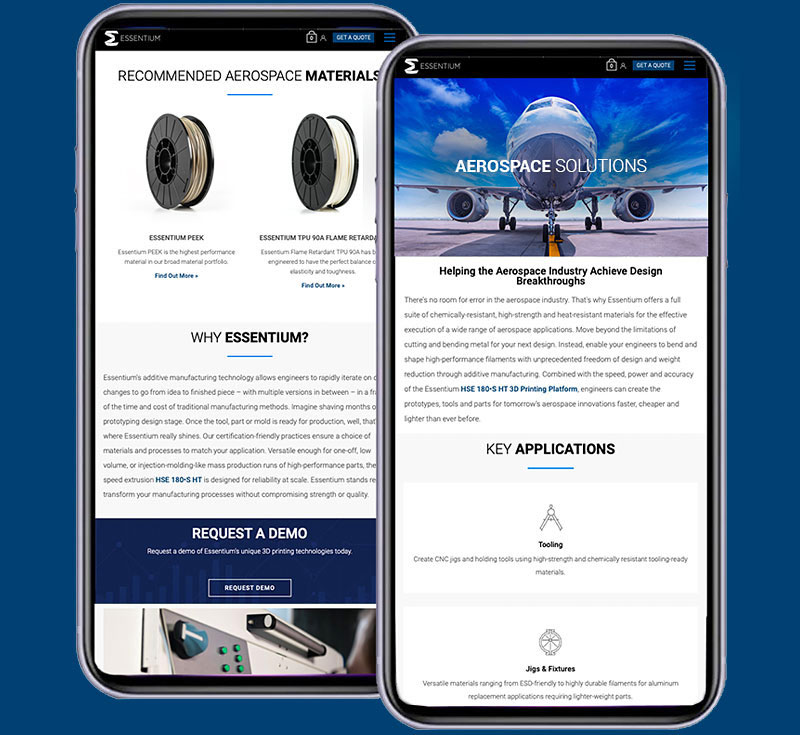 The Challenge
Essentium saw organic growth after winning several government contracts, and management was seeking to leverage those successes to further accelerate growth in the commercial sector. The company website showcased its technology well enough, but it fell short on capturing the forward-thinking strategic partnership and exciting development opportunities that Essentium offered. As a result, the website generated minimal traffic and had a limited impact on sales.
Management needed a nimble, inbound marketing and web development agency that understood high-tech and manufacturing to drive qualified web traffic, increase brand awareness, and increase lead generation. Essentium called Brainstorm.
Services Provided
Website Development, Inbound Marketing and Paid Search
The Solution
First, our web development team conducted a thorough discovery to understand Essentium's business, goals, target audience, and competition. That gave us the data needed to plan and build a custom WordPress website with a user-first experience in mind; one that would enable visitors to easily find the products and technical resources they're looking for.
Next, our SEO and technical writing team worked with subject matter experts to populate the site with content intended to help educate engineers and prospects learn how Essentium's unique brand of 3D printing technology and materials could solve their problems and support their applications. The written content included blogs, design tips and material selection guides, white papers, technology comparisons, and customer case studies-all optimized for search engines (SEO) and coupled with a paid search campaign to boost qualified traffic. Each piece contained a call-to-action with links to forms to download gated content. Captured lead information is then ranked with an advanced HubSpot lead scoring system to prioritize prospects and alert the sales team.
Then, we used automated email workflows (also through HubSpot) as the foundation of an inbound marketing program. Leads captured from content downloads were nurtured through a coordinated series of emails designed to guide the buyers' journey and move them to a conversation with the Essentium sales team. All of the contact data was automatically synced from HubSpot to Salesforce CRM, ensuring the sales team had accurate prospect information and intelligence.


The Results
After the website and inbound marketing programs were launched, site traffic increased by 135% compared to the prior year. The average time spent on the website also increased 50%, demonstrating the site's enhanced content proved more engaging to the audience. More importantly, there was a 52% increase in leads for the first year of the inbound marketing program as compared to the previous year. Finally, the end result was a measurable 55% increase in sales, from marketing activities, plus a pipeline full of prospects for future sales.